News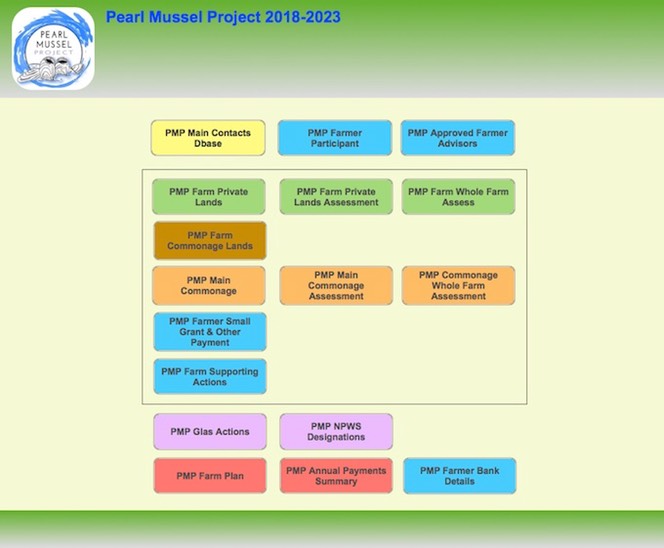 The PMP have completed the design and construction of a programme data management system (in a Geographic Information System (GIS) database and a PMP database) to manage the large amounts of digital information needed to run the results based Pearl Mussel Programme. 
The GIS has been operational for some time and includes the online Eligible Areas and Commonage Areas maps on our website, and the farm advisor habitat quality survey system. The PMP database has been developed in phases since the start of the programme to record participants, their farm plot information, training and contract status, and produce a farm plan, annual payment and results plan and an annual works plan for each participant.
This mundane behind the scenes work allows the programme to collect and store information on the 342 participant farmers that have joined the programme to date, together with data on the 2000 plots (fields) covering 21,400ha of lands which are currently within the programme. 
Most importantly for participants, the programme data management system allows PMP to calculate farm payments based on the habitat quality on their lands. It is a one of the key requirements for the administration of the PMP results based programme.
#pearlmusselproject #musselrivers #EIPagri #RuralNetwork @agriculture_ie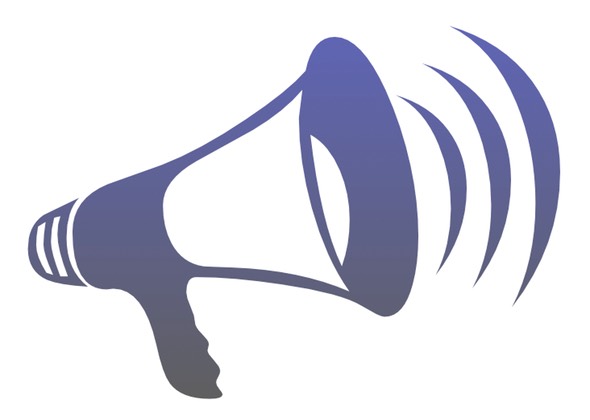 Catchment Officer (Agri-environmental)
Employer: The Pearl Mussel Project Limited
Location: Kenmare, County Kerry
Job Type: 4 Year fixed term contract, full time
Salary: €35,000 / annum (excl. travel expenses)
Closing date: Tuesday 3rd December 2019
Role / Position: The Pearl Mussel Project is a locally led European Innovation Partnership (EIP) jointly funded by the Department of Agriculture, Food and the Marine, which has developed a voluntary results-based agri-environmental scheme for farmers within eight priority catchments. The overall aim of the programme is to promote farm management tailored to maintaining and improving the local environment with a view to securing the long term conservation of freshwater pearl mussel (Margaritifera margaritifera) in Ireland.
We are currently recruiting a catchment officer with an agri-environmental background for our southern (south Kerry and west Cork) area, based in the Kerry office (Kenmare). The successful applicant will work as a key member of the project team and will report to the Project Manager. The role will require the successful candidate to travel between the four catchments in south Kerry and west Cork, and to spend a high proportion of time out of the office.
Main duties and responsibilities
 Main point of contact between farmers and the project team;

 Continual liaison with the farming community in four of the project catchments;

 Provide agri-environmental advice and support to participant farmers during scheme;

 Liaise with and provide support to farm advisors working on the Programme as required;

 Contribute to the development of guidance documents and training material;

 Assist with delivery of training to farmers and farm advisors;

 Planning and conducting monitoring surveys and fieldwork;

 Organise and partake in outreach events such as school visits;

 Liaise and work closely with the western catchment officer and wider project team; and

 Prepare and contribute to reports when required.
Qualifications and experience required
The ideal candidate would have the following knowledge, experience, and attributes:
 A degree in agriculture, ecology, or related discipline;

 Minimum two years relevant work experience in the agricultural / environmental sectors;

 Knowledge and awareness of agri-environmental schemes such as REPS, GLAS, Hen Harrier Programme, Burren Programme, etc;

 Strong knowledge of farmland habitats (peatland & grassland) and their indicator species;

 Experience in the preparation and monitoring of farm plans;

 An ability to identify issues at a farm level that pose a threat to freshwater pearl mussel, and identify solutions which give due consideration to the environment and farm operations;

 Excellent communication skills;

 Self-motivated and have a proven ability to work under their own initiative;

 Have a positive, enthusiastic, pragmatic, solution driven, and flexible approach to work;

 A willingness to actively participate as part of a wider multidisciplinary team;

 An ability to manage their own workload, ensuring that work is carried out on schedule;

 A full clean driver's licence;

 Good computer skills particularly in the use of Microsoft Office software;

 Knowledge and experience of results-based schemes would be an advantage; and

 Experience of using ESRI ArcGIS or other data management software would be an advantage.
How to apply:
Send cover letter, CV, and two referees by Tuesday 3rd December to:
Dr Patrick Crushell
Project Manager
The Pearl Mussel Project Ltd
Bell Height
Kenmare
County Kerry
Tel: 064 6642524
E-mail: patrick@pmproject.ie
Web: PearlMusselProject.ie
Suitable applicants will be short listed for interview during December with a view to the successful applicant commencing work in December 2019 or January 2020.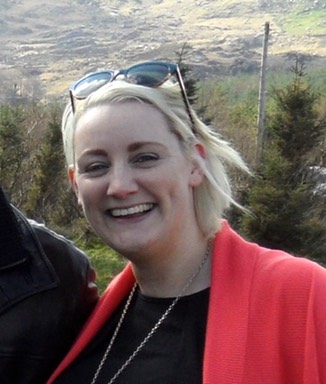 Mary McAndrew, PMP West and North West Catchment Officer gives us an insight into her first year on the job working with participant farmers in the programme.
"What a hectic first year it turned out to be in my role as catchment officer. I am really enjoying the work and cannot believe its been a year already!
When I started in 2018, one of my first jobs was presenting the programme to farmers in the catchments and getting feedback from them on what they felt would be important to include in the programme. It was also the first opportunity for farmers to meet a member of the PMP team.
Together with the rest of the PMP team we spent the winter designing the programme and went back to the catchments for discussion in February with farmers. The enthusiasm and positivity from the farmers has been one of the things that has stood out the most for me this year.
I have also been involved in training farm advisors who have been working on the project and providing them with support as they were out in the field scoring farms this summer. We also held a series of farmer training events over the summer and I really enjoyed meeting the farmers we will be working with over the coming years.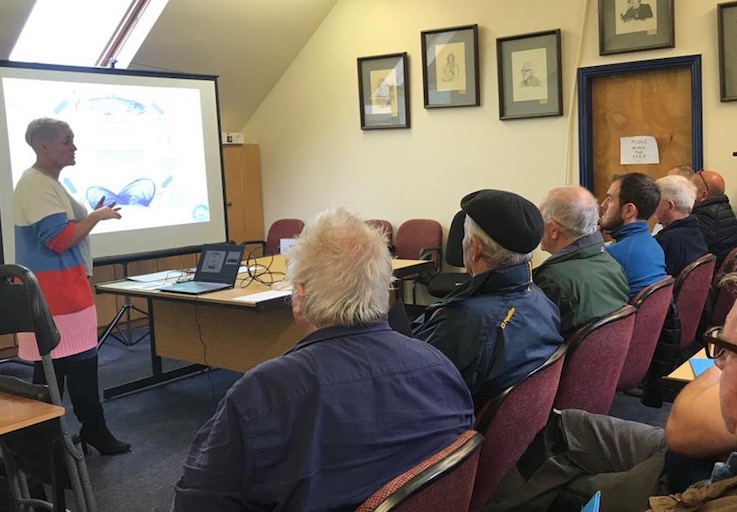 Most of my summer was spent out in the catchments in Donegal, Connemara and Mayo scoring farms in the programme. We are lucky to be working in some of the most scenic parts of the country.
I loved the field work as it was something completely different to what I'm used to doing. Apart, that is, from the time I finished surveying a farm only to find I no longer had my keys, cue retracing my steps in a panic, thankfully to find them inside the gate of the field I had started in! Or the time two overly friendly heifers decided to pin me in the corner of a field and I had to ring the farmer to be rescued (I'm still living that one down at home, my dad says if it's going to happen anyone it would have to be me !!).
I have really enjoyed my time getting to know the farmers in my catchments and building up a relationship with them all, so they know they can contact me at any stage to chat about the programme.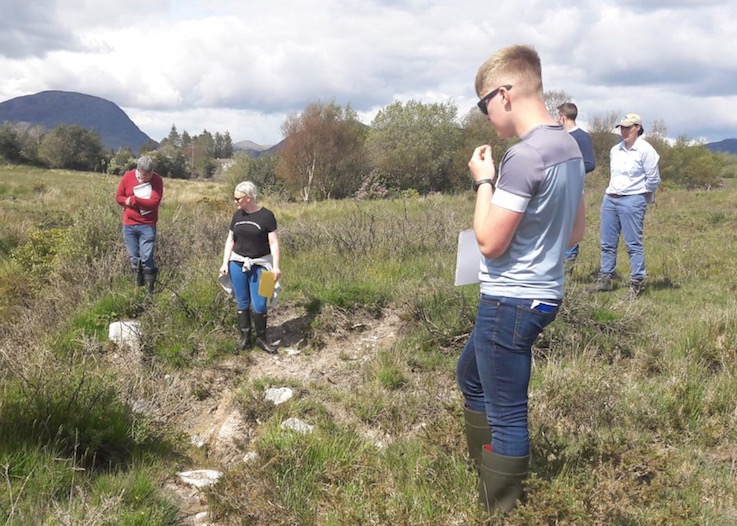 The programme also gave me new challenges and opportunities, including being interviewed for Connemara radio, leading a walk during the Connemara Green Week, appearing in Teagasc's Todays Farm, getting to travel to different events hosted by other EIPS, attending farm shows and of course meeting Minister Creed at the launch of the PMP programme earlier this year.
Coming from a farming background, its so great to see that the minister and his department recognises the benefit of locally led projects and the willingness to invest in farmers at a local level and drive this process forward.
Overall its been a really busy and rewarding first year in the job. I am loving every minute of it and am looking forward to spending more time on the ground in the catchments meeting the farmers in the coming months to helping with farm measures on their farms to improve conditions for our mussels."