The team from Wetland Surveys Ireland have been awarded the Department of Agriculture, Forestry and the Marine, Locally Led Scheme project to setup catchment management plans and a farm grant programme to help ensure the protection of freshwater pearl mussel in Ireland. The Pearl Mussel Project, will focus developing and implementing a results based agri-environmental programme across eight priority river catchments. 
The six year Pearl Mussel Project is being headed by Dr Patrick Crushell, together with project staff and a team of advisors. The main project team is based in Kenmare, County Kerry, in proximity to four of the catchments. A local area team covering the four west and north-west catchments will be headed by Dr Dererk McLoughlin who is based in Westport, County Mayo.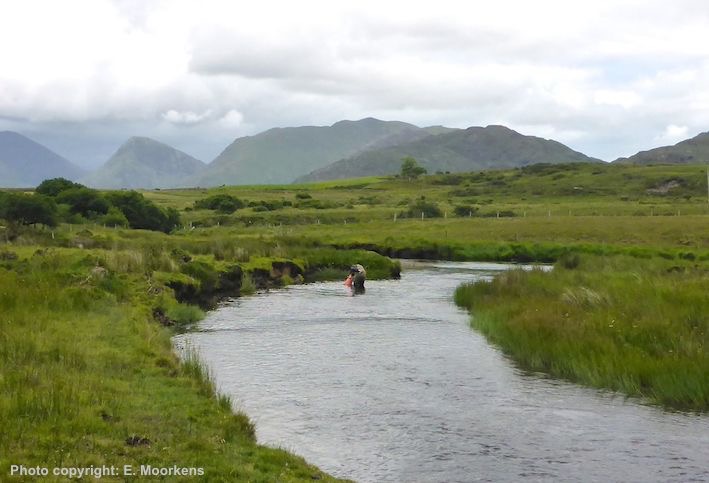 Dr Patrick Crushell, senior ecologist with Wetland Surveys Ireland who will oversee the project stated "We aim to develop a programme that is attractive to farmers by rewarding them for improving the local environment. Improvement of farmland ecology within the catchments should have a positive influence on the river habitats and in turn the endangered freshwater pearl mussel, which is a key species that indicates a very clean and healthy environment of benefit to wider society. It is right that farmers should be adequately rewarded for providing this important and valuable product". 
Farmers within the eight catchment areas in county Kerry, Cork, Galway, Mayo and Donegal are key stakeholders in the locally led project. The project team will be engaging with farmers over the coming months for input into the design of the programme. Project information and dates for farmer meetings will be advertised in local press and online via the project facebook page and website.
The 6 year Pearl Mussel Project is an action of the Locally Led Scheme of the Department of Agriculture, Forestry and the Marine (DAFM). Details of the DAFM press release are reproduced below. 
Contact details: 
E-mail: patrick@pmproject.ie
Tel: 064 6640685
The Pearl Mussel Project Ltd
Bell Height
Kenmare
Co. Kerry
The top 8 catchments included in the Pearl Mussel Project:
Caragh, County Kerry

Currane, County Kerry

Ownagappul, County Cork

Kerry Blackwater, County Kerry

Glaskeelan, County Donegal

Owenriff, County Galway

Bundorragha, County Mayo

Dawros, County Galway
ENDS
#pearlmusselproject #EIP-agri