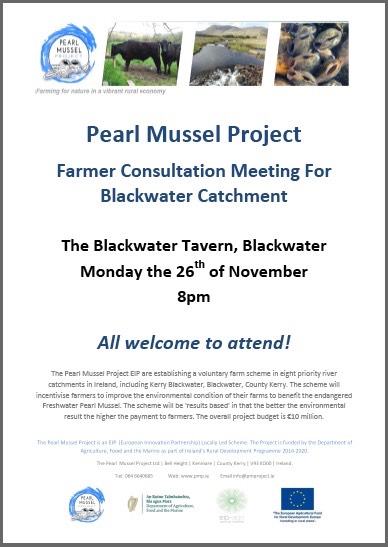 The Pearl Mussel Project EIP have announced details of a series of indoor farmer consultation meetings in the various project river catchments in south west of Ireland during November. 
The consultation meetings will outline the background and aims of the project. 
At these meetings we hope to get input from the farm communities on the design and implementation of the programme. 
All are welcome to attend!
Kerry Blackwater Catchment: The Blackwater Tavern, Blackwater, Co. Kerry. Monday the 26th of November at 8pm
Ownagappul Catchment: The Caha Centre, Ardgroom, Co. Cork. Tuesday the 27th of November at 8pm
Currane Catchment: Dromid Day Centre, Waterville, Co. Kerry. Wednesday 28th November at 8pm
Caragh Catchment: Glencar Community Centre, Glencar, Co. Kerry. Thursday 29th November at 8pm
#pearlmusselproject #musselrivers #EIP-Agri